Submitted by Anonymous on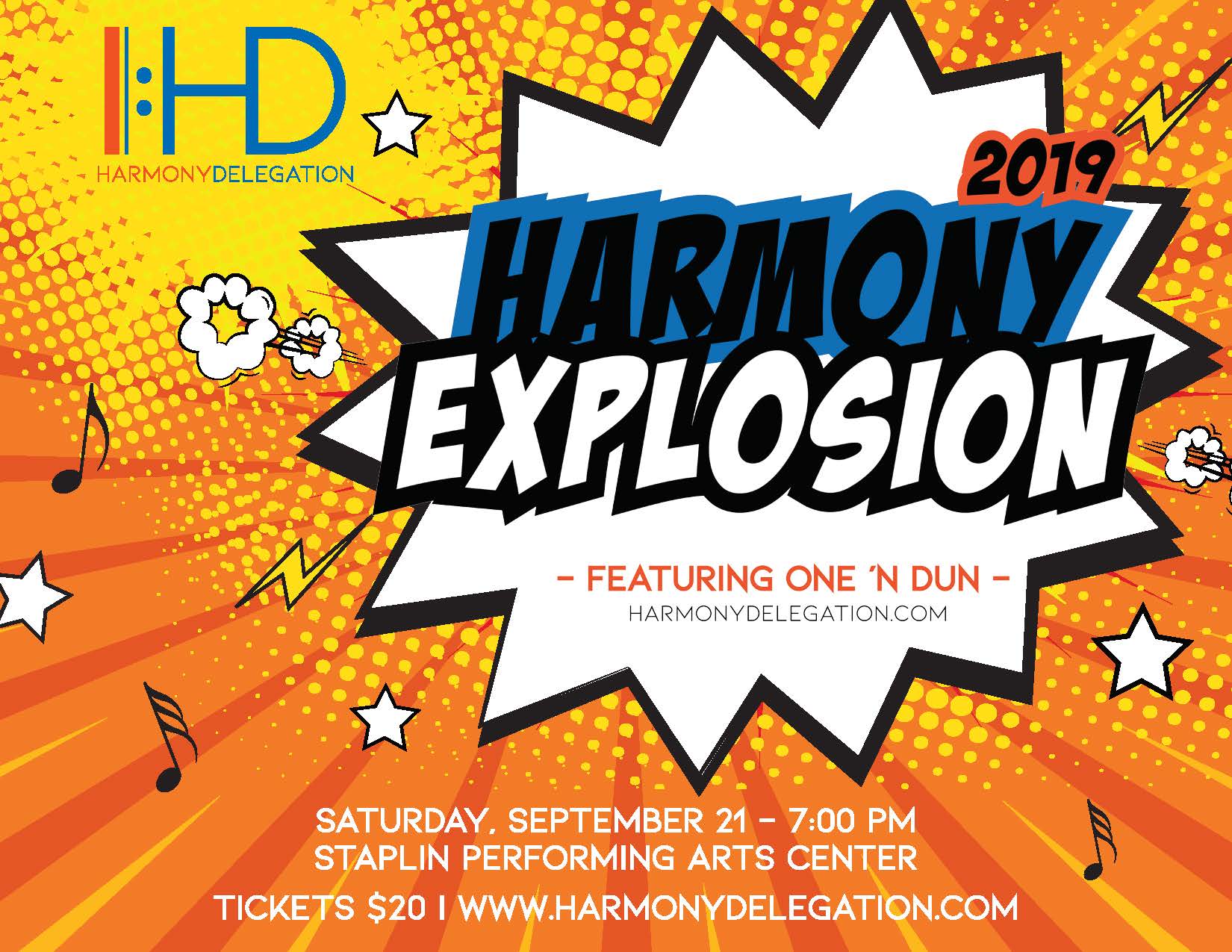 Join the Harmony Delegation Chorus alongside 150 high school singers from the
       Des Moines Metro as they present an evening of Harmony Explosion!   Also featuring
       Denver quartet, One 'n Dun, make sure you don't miss this amazing evening of
       a cappella harmonies and entertainment!
Guest Director – Dr Jay Dougherty
Director of Choral Activities at Marietta College in the Mid-Ohio Valley where he teaches all campus choral ensembles, a contemporary a cappella ensemble, the community Oratorio Chorus, choral methods, beginning conducting, and advanced choral conducting. He has served as the director of various community and youth ensembles, many of which have competed and earned the highest possible honors and awards. This will be his third Harmony Explosion.
Guest Quartet and Section Leaders – One 'n Dun
One 'n Dun is a quartet based out of the Denver Metro area. The quartet was formed in late 2017 by four friends who share the love of barbershop and also sing in both Sound of the Rockies Chorus (4th place International Chorus in 2018) as well as the 52eighty Youth Chorus (frequent participants in Barbershop Harmony Society Youth Chorus Festival). They were bronze medalists in the Next Generation Varsity (age 25 and younger) Barbershop Quartet Contest in 2018. 
Baritone Johnny Bugarin is Assistant Director and Baritone Section Leader for Sound of the Rockies and director of the 52eighty and Longs Peak, CO barbershop Choruses. 
Bass Keith Waldheim is tenor section leader of Sound of the Rockies and is Assistant director of 52eighty. 
Lead John Treash is Visual Leader for Sound of the Rockies and 52eighty.
Tenor Joshua Vanlandingham: Front row member of Sound of the Rockies. Chorus manager of 52eighty.